NEW unicycle: QU-AX Profi 559 (26″)
A solid 26″ unicycle for adults, heavy riders – or for small riders for whom a 24″ Muni is too heavy – and a 27,5″ Muni with wide tyre is just to high. A very versatile unicycle with sturdy components.
Flatcrown frame with two-piece Dropout, black
double-walled aluminum rim, black, 36 holes
Q-Axle-hub, red
QX multisport pedal, with plastic pins
wide tyre with fine road-pattern, 559-56 mm (26″ x 2,2″)
aluminum double bolt clamp
seatpost350mm, diamond-knurled, (does not twist) black, aluminum with gusset, Ø 25,4mm
light QU-AX Luxus saddle, with integrated handle
137 mm Q-Axle aluminum cranks
Magura-brake-sockets
only 5,54 kg !
minimum inseam size for the unicycle QU-AX Profi 26″ BB Q-Axle black: 78,5 cm with the gusset seatpost, if you switch it to a seatpost without gusset, you can reduce the minium inseam size to around 72,5 cm
an offroad tyre like e.g. the Schwalbe RocketRon in 2,25″ (foto in the gallery) does also fit in the frame
Find the QU-AX Profi 559 (26″) unicycle here.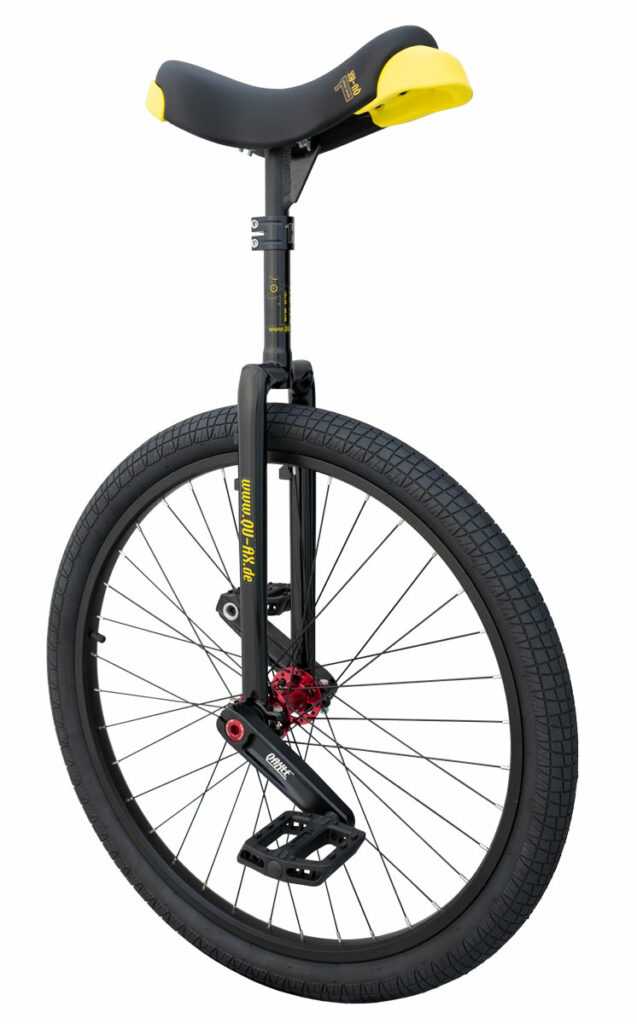 The new QU-AX Profi 559 (26″)